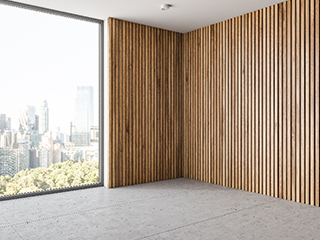 Your house is more than just a home, it says a lot about you and your lifestyle. If you're getting ready to list your property for sale and need to get ready for an appraisal, or, just want to make a change, you can start with repainting that plain (read: ugly) built-in. It's looked outdated for awhile now and you don't want to stuff more decor, books, and stuff into it to try to distract people from seeing it for what it is and how dated it looks.
Fortunately, built in fixtures are among the most useful showcasing and storage features a home can be equipped with. These often make use of what's otherwise wasted space and provide a place to put books, pictures, knickknacks, and more.
How to Repaint a Built In
A fresh coat of paint can go a long, long way to transform an ordinary built-in. You can not only choose a color, you can also paint it two or three colors. One neat idea is to paint the shelves a neutral color with a cool tone and paint the back with a color that pops. This creates a focal point and accent that really makes for a wonderful feature. Another trick is to paint the trim the same color as the shelves but with a slightly different shade.
According to interior designer Marisa Smith, when painting a large, built-in bookcase, choose a color that's compatible with the walls, rather than painting it the white of the woodwork. This will allow the bookcase to blend in with the room, instead of standing out and overpowering the space. Large bookcases are often cluttered with too many books and decorative items. When decorating a bookcase, start by removing everything on it; then put back only what's needed to give a sparse but colorful mix of books and accessories. --Today's Homeowner
When you combine the same color in two different shades or tones, it sets off the trim but doesn't make it look gaudy or too bold. You can also elect to paint the shelves and trim the same color as the surrounding walls, but, paint the back of the built-in with a contrasting color for an accent. Here's how to repaint a built-in:
Prep the built-in. Empty the built in completely and then dust it off. Remove the shelves and use a combination of mild solution of detergent and water to clean it with a soft sponge. Be sure to get all the dust and dirt off because the primer and paint won't stick otherwise.
Remove the old finish. You'll need to sand off the old finish from the shelves to have a workable surface. Be sure to brush the dust off, then, clean each shelf with a combination of mild solution of detergent and water.
Paint the built-in. Now, you can paint the built-in and shelves. Depending on the color and type of paint you use, it might require two or three coats to look right. Let dry for at least 24 hours before putting the shelves back.
Put your pictures, decor, and knickknacks back. Once the paint is dry and the shelves are in-place, you can put your decor, pictures, and knickknacks back.
If you decide to tear out the built-in and/or remodel, give us a call at 800-433-1094 or visit AAA Rousse Services. We'll pickup and haul away any debris. Our company serves all of Florida and there's a location near you to lend a hand when and where you need it. Don't just put it out on the curb, because there are things you should never do with junk, and, that's certainly on the list.