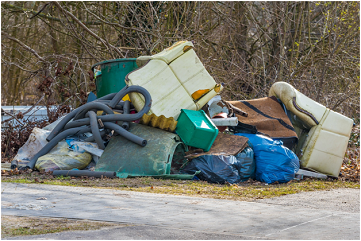 Don'ts for junk disposal. Yes, there are such things. In fact, if you do it properly, you're in trouble. Depending on the situation, it could be a code violation or a hefty dumping fee. Keep reading to learn about the biggest junk disposal don'ts.
Trash Facts
Throughout the United States, illegal dumping has become an increasing problem. Often, offenders dump late at night to avoid the costs and inconvenience of proper waste disposal. As the dumping of garbage, household appliances, abandoned automobiles, construction and demolition debris, hazardous materials, and other waste endangers public health, states have implemented a variety of laws to address the problem. The average person generates 4.3 pounds of waste per day. Over 3,500 landfills exist across the country, and 55 percent of the 220 million tons generated annually are disposed of here. We use and waste a staggering amount of organic and inorganic materials.
Biggest Don'ts
When you're ready to get rid of the old, you'll have to do what ostensibly seems easy, but isn't. Some facilities and collection services won't accept certain things. It's best to repurpose, donate, sell, or recycle. Here are five things you should never do with junk:
DON'T Put It in an Alleyway- Just because you see piles and piles of junk garbage in the alley doesn't mean it's okay to put your stuff there. If you think it doesn't harm anyone, your wallet will disagree. All that illegal dumping must be cleaned up and that comes with a price.
DON'T Burn It-There's nothing wrong with a bonfire, but there's a lot wrong with burning junk. Doing so releases toxins into the air and it can also easily get out of control. You don't want the local fire department showing up and then citing you with a fine.
DON'T Drag it to the Curb- One man's trash is another man's treasure, so the saying goes. Sometimes, that's just not the case. When you put stuff on the curb, it could well stay there, even after the local collection agency makes its stops. Some of it could be donated to charity, or you can call a junk hauling and removal service to avoid having to pay disposal fees.
DON'T Dump it Illegally- When you're tempted to just throw it into a dumpster behind the nearest retail location, remember that most are video monitored. You really don't want to take the chance.
Choose Junk Removal Services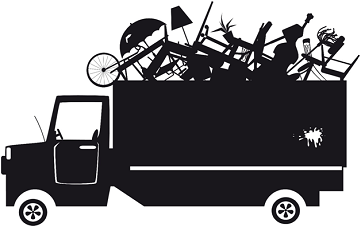 Let us tell you what the right thing to do with your trash is now that you've learned what NOT to do. If you want to get rid of your junk in the safest and most environmentally friendly manner, you should hire a junk removal company. AAA Rousse Junk Removal can take care of all your junk removal needs. We remove furniture, appliances, trash, and personal items from your residential or commercial property in a timely and efficient manner.
Our Florida junk removal and hauling service is the premier choice for removing junk and unwanted items. With our professional waste disposal service with recycling, you will have all your junk cleaned up and disposed of. Whenever possible, we recycle or donate your unwanted junk as part of our community's responsibility.