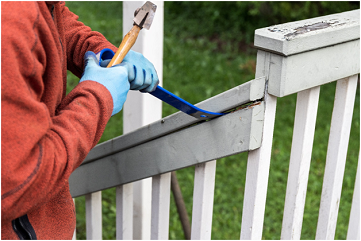 Many homes feature an outdoor deck as one of their most attractive features. It's all good until it's not. An old deck can become unappealing and unsafe due to weather, age, and neglect. There are many options available for replacing your old deck, including composite and engineered wood products. The old deck debris must still be removed, regardless of whether you build it yourself or hire a contractor.
It Involves A lot of Debris
The process of removing an old deck can be quite lengthy and involved. It is especially important if you plan to replace it with a patio instead of a new deck, as some people do, or if you plan to build a new deck structure without using any existing concrete footings. As a result, the cleanup and subsequent debris disposal can involve more than just removing old boards and replacing them with new ones. You may need to remove hundreds of pounds of brackets, nails, bolts, and other metal fasteners, as well as piles of broken-down concrete rubble, depending on how extensive your deck makeover is and how complex your old deck was. Not to mention all the beams, rails, stair string, treads, and other types of deck boards! After you start building a new deck, you'll have all the packaging waste, cutoffs, and other construction debris to dispose of.
No Need for DIY Disposal
It will probably take you a few days, if not a few weeks, to dismantle and replace your old deck yourself. The last thing you want during that time is an ever-growing pile of wood, metal, concrete, and other debris on your previously green, healthy lawn. In addition, it will be unsightly and a safety hazard.
If you have a truck to haul this junk out on your own, you still have to take time away from your deck project to do junk removal and hauling. It's likely that you can't haul the big stuff without a truck or access to one. Getting someone else to do it for you is the only other option.
Hire a Professional for Debris Removal
Instead of trying to figure out how you are going to remove and dispose of all the debris from your deck removal, consider calling AAA Rousse junk removal. Our professionals are equipped with the big trucks and knowledge to get rid of your old deck with ease.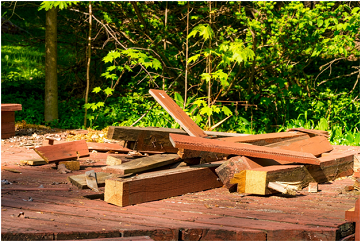 Deck Dismantling Services
Dismantling your old deck is also a service we provide. No effort is required on your part. Let us do the work for you and ensure everything is removed from your property safely.
Save your back and avoid the permit fees and dumpster rental costs by using ours. We do all the work for you. Getting rid of junk should be easy, and with us, it will be. AAA Rousse simplifies the disposal and recycling process. There are no hidden fees. No surprise charges. Just one simple price and we take it all away. Now, you can focus on building your new deck or patio and let us do all the removal and disposal.