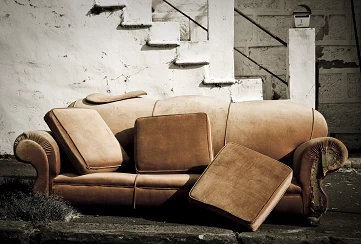 Are you looking for information on easy, eco-friendly furniture disposal? You're not alone. You have a variety of options when it comes to couch removal. Donating old furniture is one option. Junk removal services can also pick up bulky items like couches and dispose of them properly. By understanding your couch's condition, we can determine which option is best.
Your Couch's Condition
You should assess the condition of your couch before deciding how to get rid of it. If your couch is still in good condition, you may be able to list it on the Facebook marketplace instead of disposing of it. Let's review what to look for when deciding whether to donate, sell, or dispose of your couch.
Couches last 7 to 15 years on average. Old sofas that are considered antiques can sometimes be refurbished and used for a longer period, however. In general, if your couch is 7-15 years old, you should dispose of it and buy a new one. Your couch's support and feel are also important. Do the couch cushions sag? It is important to decide whether you feel they can be replaced. The quality of your sofa fabric is also important. Over time, furniture items can accumulate stains, tears, etc. The interior of the couch should be checked for any health hazards such as animal droppings, bed bugs, mold, and mildew. In certain pieces of furniture, pests can hide and infest the interior, and moisture can build up in the cushions. Couch disposal is recommended if any of these elements are present.
Eco-Friendly Options for Getting Rid of Your Couch
Having evaluated your couch's condition and decided whether to donate or dispose of it, let's look at some eco-friendly options for getting rid of it.
Couch Donation
Donating a couch in good condition to a charity like the Salvation Army, Goodwill or Habitat for Humanity is a great option. These nonprofit organizations sell used couches and other donated furniture in their retail stores. You can also deduct your donation from your taxes if you do this.
Couch Recycling
Due to landfill overcrowding, many cities now offer eco-friendly recycling programs to help citizens safely dispose of used furniture. You can even arrange a curbside pickup if you are unable to bring it yourself through some programs. Confirm your options with your local recycling center.
Couch Selling
You might be able to sell your couch locally if it is new enough and in excellent condition. As a reference point, look at other local listings for couches. Craigslist and Facebook Marketplace are great places to find buyers, especially if you need to get rid of your couch quickly.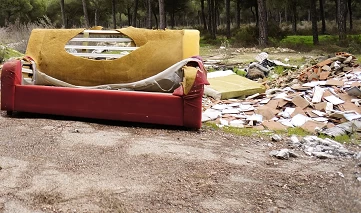 Junk Removal
Another option is to hire a professional furniture removal company. Your couch can be properly broken down and disposed of by junk removal companies. It only takes a phone call to arrange for furniture pick-up.
AAA Rousse provides eco-friendly junk removal services. You can count on our professionals to remove and dispose of your old furniture properly. Using our junk removal service means you don't have to figure out where to take your old couch or do any loading or transport yourself. From beginning to end, we've got you covered! You can also have us remove any other unwanted items or junk around your home while we pick up your old couch. By recycling and donating what we can, we dispose of all items we collect properly. Our goal is to keep as much as possible out of landfills. Call AAA Rousse, the leading Florida junk removal company, when it's time to get rid of your old couch.