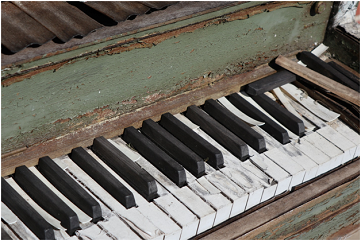 Anyone who has ever moved and tried to haul their piano into a moving truck with a few friends knows what a horrible experience it can be! You probably promised yourself that you wouldn't do it again! When you move next time, the piano stays with the house, right?
It can be difficult to get rid of a piano, and not just physically. Pianos are usually passed down from loved ones. They have a lot of memories attached to them. Pianos take up a lot of space, however, and if no one in your family plays, it just doesn't make sense to keep something so significant because it used to be your grandmother's.
So, how do I get rid of my old piano, you may ask? You can get rid of your old upright piano or even baby grand piano in a variety of ways. You can have someone haul it away for you. Your piano can be sold or donated to a local charity shop. Here's a closer look at each of these options, so you can make an informed decision for yourself.
Sell It Online
If your piano is in good condition, selling it is an option to consider. Your best option might not be this if you're in a hurry to get rid of it. Finding the right buyer for your piano and arranging either a piano hauling company or friends to help move it can take considerable time.
Donate It to Someone in Need
Many people ask each year, "how do I get rid of my old piano," while others wonder how they will ever be able to afford one. Piano donations can help. The Beethoven Foundation would be glad to take your piano off your hands if it is in good condition. It will even be picked up for free from your home. You can deduct your donation from your taxes and benefit others' chances of playing the piano for years to come.
Whether or not your piano is working right, but you think it can be fixed, a junk removal service will know where to take it. Our mission is to reuse and recycle pianos, as well as other items that can be repaired and loved continuously. Piano donations are always needed by schools, care centers, recreation centers, and others.
Knowing we aren't just adding to the landfill when we could be adding to someone's joy is worth the extra effort. Donating your piano and other items can be very rewarding and help take the sting out of getting rid of something that is important to you.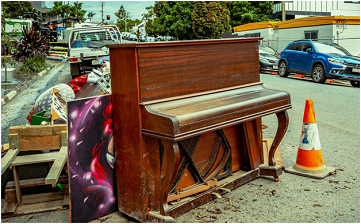 Enlist a Junk Removal Company
Although it may be biased on our part, it couldn't be simpler to hire a junk removal service for piano disposal. AAA Rousse can transport your piano at an affordable price and in a timely manner. Moreover, our expert haulers are trained to move pianos safely, so you can focus on the things that matter most to you.In some cases, a piano that is no longer working needs to be thrown out. You can also have your piano disposed of by a junk removal company. So, you are not stuck at home nursing a sore back, leave the heavy lifting to the professionals!
We can also remove a piano while you are clearing out a loved one's estate. While this can be a difficult time, hiring help can be a good decision. Furthermore, we can help with any other heavy or tough items that need to be removed while we are there. We have the expertise to handle it all. AAA Rousse is a professional junk removal service that can help you answer the question "how do I get rid of my old piano"? We know how to haul a piano correctly and quickly so that you don't have to give it a second thought.