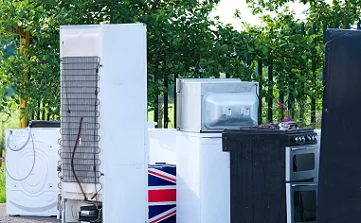 It can be difficult to get rid of an old water heater, oven, or other appliance. Several options are available to you, and each has its own advantages and disadvantages. You can load it in your own truck and take it to a dump or recycling center. Contact your local trash pickup to find out if they have a large item trash day. You can also hire a junk hauling service to take it away and dispose of it properly. Let's check out the pros and cons of all three.
Hauling it Yourself
PROS:
It is the cheapest option
You can do it at your own pace and on your own schedule
CONS:
You must have the right vehicle that is big enough to do the job
It can be a dirty job and there may be unexpected costs at the disposal location
It requires research to find the right place for disposal
Local Trash Large Item Pickup
PROS:
Trash pickup comes to you on scheduled days
It is often included in your usual trash collection costs
CONS:
You could incur additional fees from your trash collector
Items can only be picked up on the scheduled large item days, which may only be once a month
Many local trash services limit the size and weight of large and bulky items
Junk Hauler Large Item Removal
PROS:
Can be scheduled for any day of the week
You don't have to do any of the heavy lifting or loading
Licensed and insured companies will dispose of the items responsibly and in an eco-friendly way
CONS:
Hiring a third party will cost more than doing it yourself and using local trash pickup. There are fuel costs, disposal fees, employee wages, etc, included in the junk removal price.
There is no perfect solution for every old appliance disposal situation, as you can see. Understanding all options' costs and challenges is essential. You may think junk removal services are expensive, with prices starting around $100 for bulky items, but you also benefit from haulers doing the challenging work, convenient scheduling, and the assurance that your item is being disposed of responsibly.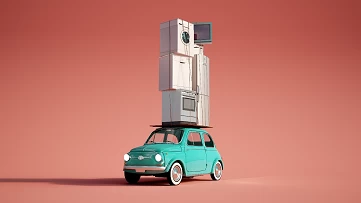 Choose the Right Junk Removal Company
Make sure you do your research before choosing a junk removal company to remove all your old appliances and forgotten junk so that you can choose the right one for your budget and needs. AAA Rousse strives to be the best junk removal company in your area. We are licensed and insured so you can have peace of mind that your property and you are safe during the junk removal process. Our company is eco-friendly, and we aim to reduce landfill waste by recycling and donating as much as possible. When we come to remove your junk, we will do all the heavy lifting, loading, transporting, and disposal for you. You don't have to break a sweat or the bank to get rid of your unwanted items when you hire AAA Rousse. Don't delay! Get rid of your unwanted junk today, and call AAA Rousse.