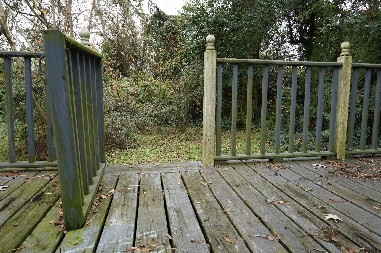 Many homeowners find themselves in a situation where their once-beloved deck has become worn, damaged, or simply outdated. While decks can provide a wonderful space for relaxation and entertainment, there are various reasons why homeowners may need to tear down and get rid of their old deck. Over time, decks can suffer from wear and tear caused by weather conditions, rot, termites, or structural damage. Additionally, changing lifestyles and evolving design preferences may prompt homeowners to replace an outdated deck with a new one that better suits their needs and aesthetics. Safety concerns can also arise if a deck is no longer structurally sound, posing risks for accidents and injuries.
When it comes to removing and disposing of an old deck, homeowners can either go the DIY route or hire a junk removal service.
DIY Deck Removal
One popular choice is to dismantle the deck yourself, salvaging any reusable materials and disposing of the rest. This can be a time-consuming and physically demanding task, requiring proper tools and construction knowledge. You will need the right tools and equipment to remove the deck, including a pry bar, hammer, circular saw, and reciprocating saw. You may also need a power drill, screwdriver, and a crowbar to remove nails and screws. After removal, you will also have to load everything up, assuming you have a truck or trailer large enough, and dispose of the deck debris properly at the local recycling facility and/or landfill.
Hiring a Junk Removal Service
The alternative is to hire a professional junk removal service. Opting for a reputable junk removal service offers homeowners a hassle-free and efficient solution for removing and disposing of their old deck. These services have the expertise, tools, and equipment to safely dismantle and haul away the deck debris. They ensure proper disposal of the materials, adhering to local regulations and environmental standards. By hiring a junk removal service, homeowners save valuable time and effort, as the professionals handle all aspects of deck removal, including cleanup. Moreover, it provides peace of mind knowing that the removal process is carried out safely and responsibly.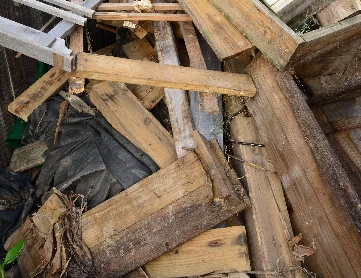 The Dismantling and Debris Removal Experts
Tearing down and getting rid of an old deck can be a necessary task for homeowners seeking to improve safety, upgrade their outdoor space, or address structural issues. While DIY deck removal is an option, hiring AAA Rousse to do it for you offers numerous benefits. By entrusting the task to our professionals, homeowners can save time, ensure proper disposal, and enjoy a hassle-free deck removal process. So, if you find yourself needing to bid farewell to your old deck, consider the convenience and peace of mind that AAA Rousse can provide. AAA Rousse is expert at all types of remodeling, renovation, and construction debris removal. Not only will we remove all your decking and other wood debris quickly and safely, we will be sure to reuse or recycle as much of it as possible during the disposal process. Ready to tear down your old deck and get rid of it for good? Call AAA Rousse today!