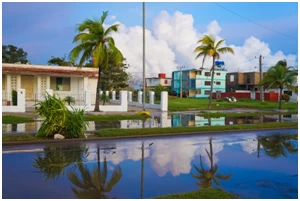 The task of cleaning up after a natural disaster is emotional and time-consuming. It can also be hazardous. To clean up safely and effectively after a storm, specific supplies, techniques, and products are required. The wreckage and debris can make it difficult for residents to determine where to begin the cleanup process.
AAA Rousse has responded to several natural disasters. Throughout the years, we have seen flooded homes, destroyed buildings, and ruins of all kinds. We, as experts in clean-up and junk removal, feel it is our responsibility to provide on-the-ground assistance to affected residents.
We place a high priority on safety.
It is our goal to make your clean-up as easy as possible during these challenging times. The following tips can help you to clean up after a natural disaster or an upcoming winter storm in a safe and effective manner.
1. Environment
Before you begin any post-disaster clean-up, you should ensure that your environment is safe. Remember to be cautious when entering your home. Are there any signs of water damage or structural damage? Are any electrical appliances wet? Do you smell gas or other chemicals? If this is the case, contact the appropriate authority such as an inspector, an electrician, or another government agency. You should not enter the building until it has been cleared by a professional. When you have determined that your home is safe, you can begin clearing out debris.
2. Use Proper Gear
There are numerous types of debris that can be created by disasters, so you need to be prepared accordingly. Because it is a dirty job, wear old clothing and gloves to protect yourself. Use extra caution when handling potentially dangerous items such as propane tanks, car batteries, electrical equipment, or sewage. Wear protective gear, such as gloves, face masks, boots, and goggles. Always follow the manufacturer's instructions when using a chainsaw to remove fallen trees or branches, and wear protective clothing, earplugs, and safety goggles. Keep any bystanders out of harm's way.
3. Don't Do it Alone
Natural disaster debris is often heavy and difficult to remove. You could seriously injure yourself if you attempt to move large items such as refrigerators, dishwashers, concrete, or fallen trees independently. Don't hesitate to ask for help from your family, friends, and neighbors, and always work as a team. Certain items can be dangerous if handled improperly. Damaged refrigerators can leak Freon, electrical appliances can short-circuit, and some items may be too heavy to remove on your own. For these reasons, you should always call a professional.
4. Pace Yourself
During disasters of this magnitude, cleanup can take weeks or even months. Although it is important to act quickly, you will not be able to accomplish it all at once. Begin with the most critical issues and take breaks when necessary. Work together with family and neighbors so that you feel safe and supported. During such a stressful and emotional time, please pace yourself so you do not become overwhelmed.
5. Have a Plan For Disposal
It is impossible to fully prepare for the effects of a natural disaster. Despite this, preparing ahead of time can reduce some of the stress associated with hurricane cleanup. Make a list of who to contact to dispose of certain items. Local governments, in most cases, offer free debris removal services if you properly categorize your waste and place it at the curb.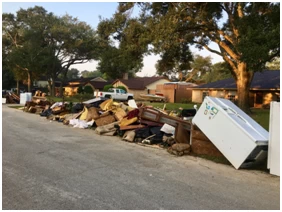 Cleaning up after a disaster is challenging, but you are not alone. AAA Rousse is available to assist you if you need extra assistance. We are trained and experienced professionals with years of experience in junk removal and disaster clean-up. When you are recovering and rebuilding, we can assist you in doing so safely.