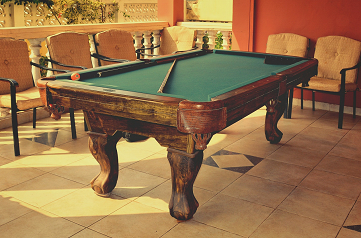 Recreation rooms are often centered around pool tables. A variety of billiard games can be played by players of almost any age or skill level. Homeowners often wonder how to dispose of old pool tables when they become disused, or when they want a new centerpiece in the room. You can't easily move them, and they are probably too big to fit through the doorway. If you find yourself looking to get rid of an old pool table, don't worry. When it comes to getting rid of old pool tables, there are a few practical solutions.
Disposal Methods
Even if repurposing or refurbishing the table is not an option for you, there are still plenty of disposal strategies to consider. Even disassembling a pool table may require several strong helpers, so there are a few alternatives you may be interested in.
Give Away or Sell It
It doesn't mean someone else wouldn't love to have your pool table just because you want it gone. Ask your family and friends if they would like it. It is also much more environmentally friendly than scrapping it and dumping it. Your pool table may be quite valuable if it's in decent shape. Post on social media marketplaces or contact local charities and pool halls. They may be interested in your table and willing to pay you for it. Tax deductions may be available if you donate it to a charity.
If Your Pool Table is Junk
You have a few options once you've decided your pool is junk. If your pool table is in bad shape, and you don't think anyone else will be interested in relocating or rehoming it, you may want to toss it in a dumpster. But that is much more easily said than done. It is common for a pool table's slate tabletop to come in three sections, and each section can weigh 150 to 300 pounds. Single-piece slate tabletops can weigh up to 900 pounds on some tables. You should also be very careful when selling slate, since even a slight chip can render it unusable as a pool tabletop. Now that your pool table has been disassembled, it is ready to be disposed of.
DIY Dump Drop Off
The extra trouble of breaking down and the added cost of renting a dumpster might not be necessary if you own a truck with a full-size bed. Load the disassembled table into your truck and take it to the local dump. There is usually a weighbridge at the entrance of such facilities. Your vehicle is weighed before entering the facility and again after dumping your old pool table. The difference between those weights is the weight of the garbage you deposited in the dump. By using that weight measurement, the landfill charges you a nominal disposal fee.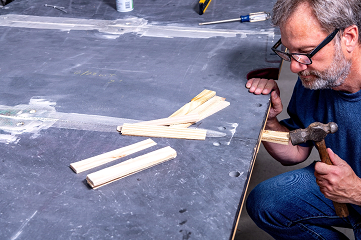 Bring in a Junk Removal Professional
If you are short on time, don't want to put in the DIY time, or just prefer convenience, you can hire a junk hauler to remove your old pool table. Moving companies or junk haulers in your area may be able to take your table. If you need to dispose of an old pool table, call AAA Rousse instead of doing it yourself. Getting rid of unwanted junk is easy with us. We will take care of everything for you with our friendly professionals. We can take your pool table apart, move it out to our truck, and ensure everything is recycled or disposed of responsibly.