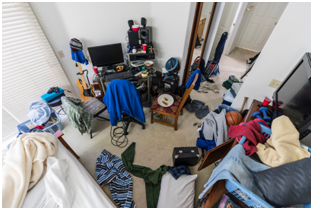 It's easy for our homes to become cluttered. One day the mess seems manageable, the next you're overwhelmed. Everybody wishes they had an organized, clutter-free home, but it can be difficult to know where to begin, especially if a large amount of unwanted items has accumulated. Purging your house can not only be time-consuming, but it can also be daunting. You are left with piles of junk after it is over. AAA Rousse can assist you in getting rid of all your junk and haul it away for you, so you no longer have to worry about it.
1. Declutter Your Hallway
Remove everything from your closets, shelves, hooks, and cubbies. Sort everything one by one. Sort things you want to keep from things you want to get rid of. The next step is to put back only what you are holding onto. The key to keeping these small spaces neat and tidy is to make sure everything has a place. Make sure you have a spot for everything in your home, no matter how small!
2. Declutter Your Closet
Regardless of whether your closet is in your bedroom, or it is overflowing into storage space, sorting through your clothes is essential. What is the best way to clean out your closet? Start by pulling everything out at once and putting it in piles. Hold up each item as you go through each pile and consider whether you need it. Make a pile of everything you want to get rid of. All the items you're keeping can go back into your closet after you've gone through everything. How often should you declutter your wardrobe? It's a good idea to go through your wardrobe every season. It prevents clutter from building up in your closet in the future.
3. Declutter Your Bathroom
It's no secret that bathrooms tend to accumulate clutter since they often house a lot of smaller items and don't have a lot of storage. You're likely to find expired medication, old unused bandages, cosmetics, and grooming products that never got used up and have been sitting around forever. Start with your vanity. Empty out your medicine cabinet, under the sink, and drawers. Group like items together: all the hair stuff together, all the makeup in another pile, etc. Go through each group and toss anything that has expired or is really old. You probably don't need to keep it if you haven't used it in a year.
4. Declutter Your Kitchen
Since the kitchen is the busiest room in the house, you can easily accumulate clutter and grime. You should remove all non-kitchen-related items before cleaning your kitchen, so you can see what should be stored there. Next, go through all your appliances, dishware, cutlery, dish towels, etc., and see if there are any duplicates or extras you can get rid of. Remove anything you don't use or that is broken. Even if you intend to use it or fix it, you must be realistic.
5. Declutter Your Garage
When you don't have room in your garage to park your car, it's probably time to clean it out! As it's typically not a place where people hang out, your garage can quickly become a place where you store random stuff you don't know what to do with. Pull everything out and group like items together. Sort through each pile and decide what to keep and what to throw away, setting aside all the items you aren't keeping. Here are a couple of things to consider when deciding what to get rid of. You should probably get rid of anything damaged or rusted, and only keep things you need. If you can't see yourself using it in the next year, it might be time to let it go. Consider installing some sturdy garage shelving when it's time to put everything back together.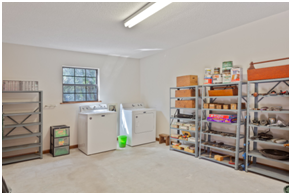 What to do with your unwanted items
It's time to get rid of all the things you no longer need! If you have a truck, you can do this yourself. Items that are still usable may be donated to local charities, but you may have to transport them on your own. Unless your area offers pickup services for larger items, you'll likely need to take any unusable items to the dump yourself. For these reasons, hire a junk removal company.
Our professionals at AAA Rousse are experts in decluttering and can get all that junk out of your way in no time. We'll do all the heavy lifting and take all your junk off your hands.