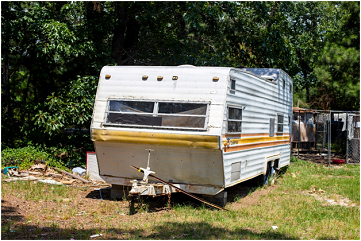 Because not all landfills accept junk RVs, getting rid of a junk RV isn't as simple as taking it to the landfill. It can be difficult to get a junk RV to a landfill if it is not drivable. To dispose of an RV, you can pay to have it removed, find someone to give it to, or break it down into its component parts and recycle it.
What is a Junk RV?
When an RV no longer retains any value and cannot be repaired, it is generally considered junk. That usually happens because it's old or needs repairs that cost more than its market value. Depending on how much it would cost to make your RV operational and whether your state allows you to restore it, you might have a junk RV on your hands.
RV Salvage Value and Title
If your RV insurance determines the vehicle a total loss after an accident, it's probably a junk RV. Salvage titles indicate that an insurance company has deemed a vehicle a total loss. Each state has its own criteria for determining whether a salvage title should be issued. RVs that have been totaled should have salvage titles. Some will go even further and have a salvage title that lists them as "parts only," "non-repairable," or something similar. If you were to sell your RV to a salvage company for parts, the RV salvage value would be the price you or your insurer would expect to receive.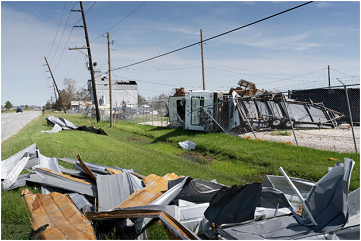 How to Get Rid of an RV or Camper Trailer
1. Sell the RV
Even if your RV is junk, you can still sell it. The RV may still be of interest to some DIYers, even if it is in bad shape. As a result of the damage, they may harvest parts or gut the RV and use the shell or frame.
Be honest in your advertising and set realistic expectations. Before setting your asking price, determine what works and what doesn't, and research the value of any appliances that are still in working condition.
2. Give the RV Away
You can list your junk RV for free on resale sites such as Craigslist or Facebook Marketplace if no one wants to buy it. While you won't get paid for it, someone else will likely remove your junk RV for free. If it's still functional, you can donate it to charity.
3. Scrap Your RV Yourself
You may be able to sell individual pieces of an RV if you have DIY skills. Metal siding and other materials can also be scrapped and sold at scrapyards. The metal parts could be taken to a local metal recycling site if they pay for scrap metal.The process of breaking down your RV can be labor-intensive, but if you know how to scrap a camper trailer or motorhome, it may make you more money than disposing of your junk RV whole.
4. Hire a Junk Removal Company
Getting rid of a junk RV is easy when you hire a junk removal service. You can use this option quickly, easily, and efficiently. In this way, you won't have to waste time finding a buyer or scraping and disposing of it on your own. AAA Rousse takes the removal of RVs, motorhomes, and campers seriously. Additionally, our team of property clean-up professionals can remove multiple types of recreational vehicles, including motorhomes and campers. There is no doubt that AAA Rousse is the best source for RV removal, motorhome removal, and camper removal in our beautiful state of Florida.