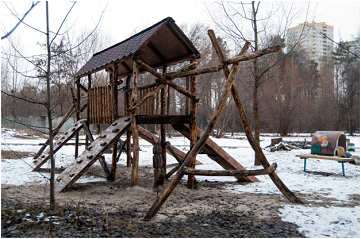 Although backyard playground equipment can be an asset for your children, the kids will eventually grow up and the swing set will need to be removed. The process of disassembling a playground and donating or recycling the materials can be time-consuming. AAA Rousse can make the process simpler.
We will go above and beyond typical customer service to make sure that you are truly pleased with our quick and efficient attic junk removal services. It's a no-brainer. Get in touch with us today!
1. Plan Out the Disposal
To remove playsets, the first step is to develop a plan. Are you going to chop it up for firewood if it is wooden? Could you break down the playground into large chunks and transport it to a new owner if it is still in good condition? In this planning process, it is important to weigh whether it is worth your time to tackle the project yourself or to hire a professional junk removal service. Not only would you have to disassemble each piece, but you would have to load it all into a truck and decide what to donate, recycle, or take to the landfill. Several stops and loads can add up to a lot of time and energy. It is sometimes better to hire a junk removal service.
2. Keep Safety a Priority
As an amateur, you may encounter some safety concerns while removing the swing set. Protect yourself by using the proper equipment. Recognize what to look for when it comes to swing set removal safety. It is not a family affair. Keep small kids away from potential dangers. Debris from a swing set removal project poses too many hazards. Backyard playsets are exposed to weather and moisture. Mold can grow in rotting wood. Protect yourself from mold and debris by wearing a mask. On a wooden swing set, the old wood can be weathered and sharp. As you break apart the playground, wear gloves to avoid any injuries from splintering wood. Even if the wood doesn't appear cracked, looks can be deceiving. Rusty nails can also be a hazard with a wooden playset. Nails can fall into the grass below when you pull pieces apart. So, children should not climb over these parts and get pierced by old, rusty nails. Nail scrapes can also be prevented with gloves. Some playsets have metal corners or pieces of metal from the roof or swing set structure. During the playset removal process, metal fragments can stick out and become sharp due to exposure to the weather. Place metal pieces far away from where others may walk so as not to become a tripping hazard. Goggles may also be a helpful piece of safety equipment when prying apart these metal fragments.
3. Reuse or Recycle Leftover Parts
Swing set removal may seem like the logical next step if your kids have outgrown the equipment. But it's not the only option. Many families reuse or repurpose their swing sets. Raised garden beds, chicken coops, or garden terraces are some ideas for recycling your old swing set.
You can repurpose part of your backyard structure without removing the whole thing. These options will still require heavy lifting, unscrewing, and removing slides and swings. Likewise, recycling is a great option with swing set removal whether you want to recycle parts like swings, handlebars, or the slide, or if you want to sell or donate the whole structure. AAA Rousse will donate your playset if it is in reasonable shape. Most importantly, the whole playset doesn't have to end up in a landfill. It may take some additional research, but it is worth it to recycle what you can.
4. Be Patient
The process of junk removal can seem overwhelming when it comes to a large structure like a swing set. It will take time to figure out what steps are right for you. Make no rash decisions. There is a difference between patience and procrastination. Don't hesitate to remove your swing set if you have space in your backyard you want to use for something else, or if your playset is an eyesore. Call on the professionals at AAA Rousse to get the ball rolling.
5. Hire a Swing Set Removal Company
You should consider your backyard to be an oasis away from the rest of the world. A large playset should not take up space that could be used for a hot tub, pool, patio, firepit, outdoor kitchen, and more! You have so many options in your backyard. Now is the time to start changing your backyard.
You can rely on AAA Rousse to take the stress of swing set removal off your hands. Having the experience and equipment to dismantle large playground systems is our expertise. Contact us to set up your appointment and get started on your project.