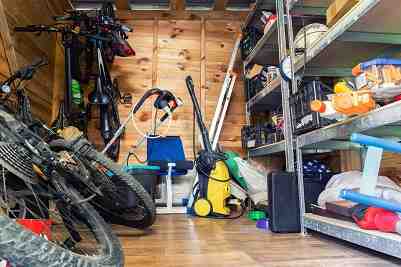 Shed organization cleanout. What a huge job. And, that notion is most definitely true because it will take a significant amount of time and effort. But, it's worthwhile, given the fact it will yield a sizable amount of extra storage space. Plus, make things a bit easier to access. Moreover, it adds immeasurable function to an otherwise cluttered, unorganized space. Read on to learn more about shed organization cleanout.
Junk Disposal
Before you rush into the work, you should have a plan for what to do with all that stuff. You know, those things you don't use, don't need, and don't want. Sure, you've stuffed them into corners and out-of-the-way places. But now, with a garage cleanout in the works, you'll need a method for getting rid of a whole bunch of stuff. So, you'll need a strategy in order to stay on track and move forward.
With so many of us working in the garden every day the storage shed where we keep our supplies have gotten, shall we say a little "cluttered". OK, it's a mess, but what better opportunity to show what a little planning and elbow grease can accomplish. --Home Depot.com
This is why you should call in a junk removal service. They'll do all the work for you and haul away anything you don't want. This way, you don't have to worry about separating out junk from recyclables, and more.
Shed Cleanout and Organization
Now, shed organization isn't exactly rocket science. But, it's easy to make mistakes which can really set you back or even discourage you altogether. Here's a simple storage shed organization guide you can use:
Knock on the door and walls. Sheds make for a great escape from the weather and predators. So, don't just throw open the doors and walk inside. Instead, knock and bang on the door and the walls as an alert. Then, proceed slowly inside.
Clear everything out. You'll have to clear the entire shed out down to the last item. Leave nothing inside and when pulling things out, put like items together to make organizing and purging a bit more simple.
Hose it down and clean it. Now that's it's completely empty, it's time to give it a cleaning. Use a garden hose and dish detergent, along with a long-handle scrub brush. Rinse it out and allow it to dry.
Sort everything to get the space organized. While it's drying out, you should sort all the contents to get them organized.
If you need a shed cleanout done for you, go ahead and phone 800-433-1094 or visit AAA Rousse Services.