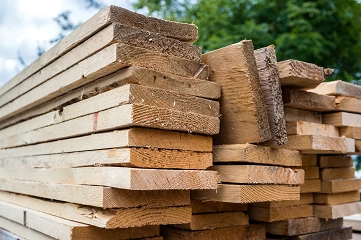 It is time to put an end to pouring paint down the gutter and discarding perfectly useful construction materials in the dumpster. In case of overruns, it is a clever idea to buy 10% more than you estimate. When you have leftover bits from a home improvement project that are brand new and perfectly usable, what do you do with them? How about solvents and chemicals you won't use again? Do you store them in your garage for the next 20 years, taking up space and slowly going bad? It is possible, but there are better options. What are some ways to dispose of leftovers from remodeling projects?
What Can You Do with Extra Construction Materials?
Donation centers for building materials are available in most cities. It's common for these places to come to you to collect materials they need, then resell them to the public well below retail, and that money goes to charitable causes. Items accepted range from nails and screws to vanities and cabinets, both new and used. A general donation center is a good option if you have items that a reuse store cannot accept because they already have too much or don't have customers who need them. There are often places that will take small amounts of supplies that building supply resellers won't. A small box of a dozen tiles might not be useful for someone buying enough to retile even a backsplash, but it could be perfect for someone's mosaic craft project.
It is important to take exceptional care when handling solvents and chemicals. Paints can be recycled. Yes, that's right. Recycled paint is growing in popularity. Quite often, a building material resale store can point you in the direction of a recycler. Some municipalities have chemical drop-off days. Everything from paint thinner to pesticides can be dropped off and are reused or disposed of appropriately. You can also post them for free or cheap in a public forum, such as Craigslist or Facebook Marketplace. Your message will reach a large audience, and you might find the one person who needs three square feet of laminate flooring. Your second option is to hold onto some parts in case you need to patch something in the future. Leftover parts can be useful for smaller projects and repairs.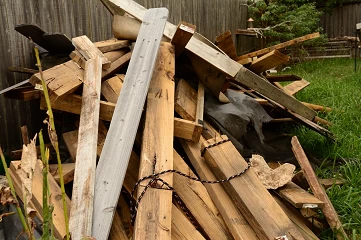 Use a Junk Removal Service
If you have unused leftover supplies or debris from a remodeling project, using a junk removal service is the easiest way to dispose of them. As part of our commitment to being environmentally friendly, we do our best to ensure that useful items are disposed of in responsible ways. Removed vanities and cabinets, carpet, drywall, lumber, concrete, asphalt, toilets, appliances, tubs, flooring, and tile are some of the things we can come and remove for you! At AAA Rousse, we will dispose of your debris and/or unwanted leftover items responsibly. If items still have a useful life, we do our best to let it continue that life. If they are worn out and can't be reused, we will break them down and responsibly dispose of them. We recycle and donate as much as possible from what we collect. To get rid of your remodeling debris or leftover items the easy way, let us get the job done for you. We will do all the removing, loading, and disposal so you don't have to worry about taking on the daunting task alone. Call AAA Rousse today!