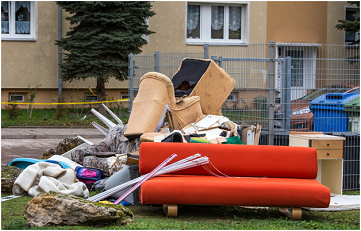 When it comes to removing old, broken furniture responsibly, it is likely that you are dealing with property damage from a natural disaster, replacing furniture damaged by pets or children, or just upgrading worn-out furniture. Getting rid of old, broken furniture can be challenging, especially if your disposal options are limited and your furniture is severely damaged.
Only used furniture in good condition can be donated or sold. If your sectional couch or guest bed has splits, scratches, tears, stains, scrapes, water damage, or pet stains, there are still ways to get rid of them. To help you decide what to do with your scratched-up sofa or waterlogged dresser, here are a few furniture disposal options.
How Do You Dispose of Old Broken Furniture?
To decide on the disposal method, it's best to take stock of the furniture you'll be throwing out, as well as anything else you want to get rid of around the house. Furniture disposal is largely determined by what it is, how much you have, what materials it is made of, and how much time you have. Your first thought was probably to drag your old broken furniture to the curb. Usually, this is a good option, but only when you have a few small items to get rid of.
Prior to leaving any large items out on the street, you should contact your garbage pickup service or the local solid waste office. Typically, municipal and private trash collection services limit residents to a certain number or volume of items and usually charge extra for items such as furniture and bulky waste in addition to your regular trash. There may also be restrictions on leaving bulky waste at the curb to be hauled away. You may be limited to only one week or one month each year when you can have furniture collected from your curb. You may also have to seal furniture in plastic bags or dismantle it before it is picked up by the garbage service. Several cities and municipalities ban the curbside dumping of furniture and other bulky waste altogether due to the environmental impact and other factors.
In any case, we don't recommend throwing away broken furniture on the curb since it's usually taken to a landfill.
Recycle Broken Old Furniture
Broken furniture disposal does not have to be harmful to the environment. Furniture such as sofas, mattresses, and recliners contain recyclable parts, so they can be disassembled for their recyclable parts.With the right tools and time, you can break down your already broken furniture and recycle the parts. All materials such as wood, springs, metal parts, foam, fibers, and fabric can usually be hauled to your local recycling facility or scrap yard.
However, taking apart furniture and then finding the right recycling facility can feel like a lot of hoops to jump through and can easily take up much of your time. It is common to enlist the help of junk removal companies like AAA Rousse to get rid of furniture by recycling it or properly disposing of it.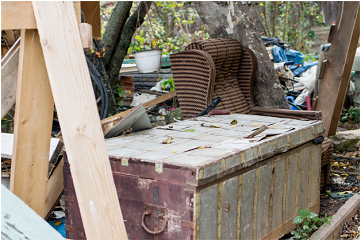 Enlist a Furniture Removal Service
A lot of people simply don't have the time, vehicle, tools, or patience to dispose of furniture responsibly. Therefore, they hire professionals to haul it away.Using this furniture disposal method saves time and energy, but it's important to hire a company that comes prepared to remove the furniture without damaging anything. They should also do all they can to prevent old furniture from ending up in a landfill. When you hire a junk removal service to get rid of your old broken furniture, a team of professionals comes to pick up your old pieces and dispose of them responsibly.
AAA Rousse offers fast, easy, and eco-friendly furniture removal and disposal, whether you have a twin mattress or a collection of old furniture. Rather than sending it to a landfill, we will do everything we can to donate or recycle your old broken furniture. We also believe in upfront, transparent pricing that does not change throughout the junk removal process.